I love to be creative...when I was helping a friend recently paint her guest bedroom, we were discussing a shop I absolutely LOVE...Simple Things at the University Shopping Center in Fort Worth. I so love to go in there and browse...see what new ideas they have and just be inspired...someday, I want my house to look just like that place! For now, it is a dream. I wish they had a website, I would post a link so you could dream and be inspired too, but they are just as their name states in the mode of "Simple Things" which means that they keep things very simple and they do not have a website. Anyways, Alisha was sharing with me that she wanted the bed to have lots of different shapes and shades of white pillows but that throw pillows were so expensive. My mind immediately got to thinking of what I could make to start her collection for the guest bed. A couple days later, I dug thru my plastic box of fabric stashed under my guest bed and here is what I made her:
two throw pillows, one 16" bolster pillow out of white silk dupioni and one 12" square pique pillow that we may add some buttons, monogram, or other handwork to if she so desires, for now it is plain. Both had invisible zippers so that the casings could be cleaned if she needed to.
"We Can Do It Cheaper"

breakdown of the cost for this project:
Both pillow forms were down fill. The square one I obtained from my big stash of pillow forms and I simply do not remember what I paid for it, but lets just assume it was $5.99 as I always try to get these things on sale. The bolster was $8.49 from Tuesday Morning. The fabric was $0.00 as I used scrap pieces leftover from previous projects. Total Cost: $14.48 before tax.
I should have been doing chores and tasks around the house, but the 2hrs spent working on these was a blast!
Tell me what you think of these two pillows:
and the inside of the card:
the complete package ready to be delivered:
(and yes I am an avid recycler, so this bag was in my closet,
it isn't as if I was trying to pretend these pillows came from there)
Doesn't it make you want to create some new throw pillows for your couch?
your bed? or the patio chair?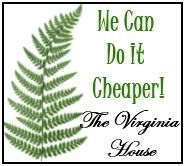 * * * * * * * * * * * * * * * * *
I am getting really very frustrated with blogging today...I am trying to simply put The Virginia House button on this post for you to link to We Can Do It Cheaper...but its not working. I am able to save the button as a jpg, but then it doesn't link anywhere when I do it that way as it is supposed to. I have tried multiple times and when I save the encryption that is supposed to automatically make this button thing happen, it does't, I only get "/>. Ugh, somedays I don't know what the heck I am doing wrong. I am very computer literate, but today, nothing is working like it did on a previous post in April when I did this. Frustrating is not even an adequate word to describe what I feel right now.
* * * * * * * * * * * * * * * * *
After the 20th time, it worked...not sure what made it decide to cooperate, but I still have no clue what I was doing wrong. hmmmmmmmmmmm.......
* * * * * * * * * * * * * * * * *
I think I have figured it out...one of the buttons on my cousins website doesn't have the same lingo as another, so that is why it wasn't working...yah, it wasn't me! :) I let her know and she has fixed it now so it should work for you too.